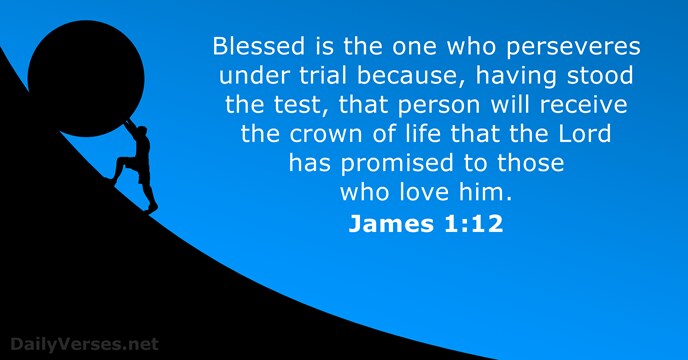 There is something to be said for survival, for finishing what you start despite all obstacles and setbacks. In James 1:12, we are encouraged that those who persevere in their faith through the trials of life have a crown of awaiting them in heaven. James has just finished discussing how Christians should rejoice in the midst of our troubles. Why? Because we know that those trials strengthen our character and make us more like Jesus. In verse 12, we now see another purpose to our trials – to test our faith and prove it as genuine. It is easy to profess Christ before others when it does not cost us anything. But what about when following Jesus leads us through suffering and persecution? What about when the easy path of sin and disobedience tempts us from the difficult path of godly obedience? Hardships and pains are not pleasant when we go through them, and we should never wish for them. But when we look back on the troubles we have endured and see God's power carrying us through without losing our trust in Christ, then we can rejoice that our faith has been proven as real. The faith that perseveres is saving faith, the faith that leads to eternal life, both now and forever. It is the faith of all those who truly love Christ. In whatever trials you are facing now, look to Jesus and live, knowing that the reward of heaven awaits all those who overcome.
The Text
12 Blessed is the one who perseveres under trial because, having stood the test, that person will receive the crown of life that the Lord has promised to those who love him.
Questions to Think About
What trials did you face in elementary school? How did God carry you through them?
What trials are you facing now? How can God help you to persevere through them?
How can you tell that you love Jesus?
In Christ,
Mr. Reel