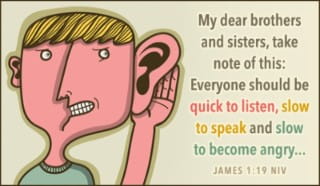 Anger is rarely a good thing. Usually, this powerful emotion leads us to be harsh, mean, and even violent towards our friends, family, and neighbors. An "anger problem" is a "sin problem" with very serious consequences. Rage can cause us to lose control of our words and actions so that we say and do things that hurt others and our relationships with them. That is why James warns use today that we should all be "slow to speak and slow to become angry." If you struggle with a quick and sharp temper, than one clear way that God wants to transform your character and conform you to the image of Christ is by helping you to get your rage under the control of the Holy Spirit's peaceful influence. Our anger does not accomplish God's will of promoting love, joy, and unity among believers. Our anger does not provide an attractive witness to lost people to persuade them to want to be Christians. Instead, our tainted "human anger" produces "moral filth and evil." God wants us to repent of our anger and be kind, forgiving, and self-controlled.
How can a person win victory over their rage? By humbly, regularly receiving God's Word into a heart that has been softened by the grace, mercy, and love of Jesus. When we listen with open minds and hearts during church and chapel sermons, Bible class lessons, and homeroom devotions, we allow the Holy Spirit to slowly transform our hearts away from selfish anger and towards kindness and love. When we read our Bibles on our own and listen to Christian songs with solid doctrine, the Holy Spirit cuts into our anger-hardened hearts like a hot knife through butter. As we walk humbly with Jesus and listen to His words instead of our selfish desires, we gradually find ourselves experiencing his peace that surpasses all understanding. So for all you rage monsters and even occasional top blowers out there, let God's Word soften your heart today to keep repenting of your anger and pride and submitting to God's will of peace for your life.
The Text – James 1:19-21
19 My dear brothers and sisters, take note of this: Everyone should be quick to listen, slow to speak and slow to become angry, 20 because human anger does not produce the righteousness that God desires. 21 Therefore, get rid of all moral filth and the evil that is so prevalent and humbly accept the word planted in you, which can save you.
Questions to Think About
On a scale of 1 to 10 with 1 being "Not at All" and 10 being "All the Time," how much would you say that you struggle with sinful anger? Explain your answer.
Can you think of a time when you became really angry and said or did things that you later regretted? What happened?
When you hear God's Word at church and at chapel, how do you receive it? Do you listen closely with an open heart wanting to know and do God's will, or do you usually ignore the message and think about other things? Explain.